How much should I budget for SEO?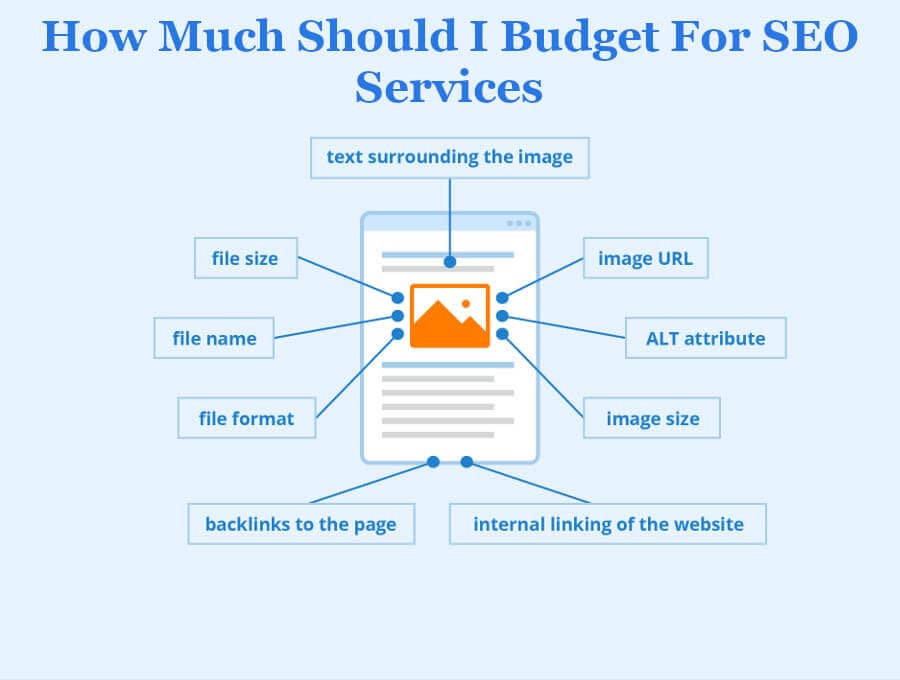 Search Engine Optimization or SEO is a crucial part of digital marketing.
Whether you own a small business or one that reaches hundreds and thousands of customers per month, most companies have an ongoing SEO campaign that allows them to reach more people, sell more products, be more popular, and do other things business owners want to achieve for their respective companies.
If you want to optimize your site, you should prepare a bit of funding for good measure. Marketing involves a lot of factors, and if you want your investment to be worth the price in the long run, spending money to improve your website is simply a thing you need to do.
We will cover the topics below:
Add a header to begin generating the table of contents
Learning how much you need to budget for SEO can be very challenging. Hence, it will help to go more in-depth about search engine optimization, how it works, why it is necessary, and the factors that will definitely affect your overall expenses.
By now, we all know that SEO stands for Search Engine Optimization. But what does it really mean? And why do we need it?
Generally, SEO is the process of making your website rank higher in SERPs or Search Engine Results Pages. When a website is optimized, there is a higher chance that it will show up first when an individual searches for a particular keyword that matches your existing pages.
For example, if you search for "Doughnuts Recipe" on Google, it will show a number of websites you can choose to view. The top 5 websites on the first Google page are what most businesses often target, as this will mean that their site will be more visible in that particular keyword. However, if the competition is high, placing on the first page can be an impossible feat.
Just imagine this: in the thousands (and even millions) of doughnuts recipes on the internet, being visible on the first page of the SERP will be more achievable with the help of SEO.
SEO can be helpful with the following:
1.     Increasing the traffic of your website
Optimizing your website for the search engines highly affects how many visitors you will get monthly. Since visibility is essential in the digital world, there are many advantages that come with running a site with high traffic than one that rarely gets any views.
2.     Increasing your sales
When your site is optimized, there is more traffic, which could also lead to more sales. This is why SEO is a must-have for e-commerce businesses – without it, you may as well be setting yourself up for failure, especially if you are still starting out.
3.     Increasing your ranking
SEO can be very effective in increasing the traffic you get from organic searches. This means that your website will still show up on the first pages of SERPs without you advertising your platform.
When do you need to look into Search Engine Optimization?
Are you a person who is hesitant about investing in SEO? No worries. We will help you determine if you need to spend your bucks on something that can be a hit or miss. But before that, you should know about the different types of search engine optimization if you want to increase your chance of success.
On Page SEO
On Page SEO is essentially the content that visitors consume on your website. This includes the text, images, audio, video, and other elements such as HTML tags.
Off Page SEO
Off Page SEO is everything that is outside your website. This includes backlinks, social media marketing, and reviews.
Technical SEO
Lastly, Technical SEO is what makes your website accessible and visible. This includes important processes such as crawling, indexing, and the website's speed.
Who needs Search Engine Optimization?
If you are running your own website for your personal hobby, craft, for education, or e-commerce, you will certainly benefit from having an SEO system.
Let us face it – the optimization of a particular site and the process behind it is an art. After all, there are many factors that we need to consider for a well-designed SEO system. It does not matter if you are already running your own site or is in the process of launching one. Since it is very advantageous to have, we will dare say that every type of website needs SEO.
Factors that affect how much your budget should be
A well-executed SEO can be the reason why a simple website sells 100 products every month to thousands. Hence, it is only fair for professional Google optimization services to charge website owners with rates that correspond to their hard work and skills.
If you want to start ranking your websites, you should set aside funds to fuel your SEO needs. But how much money do you need to prepare? And what are the things you need to watch out for?
Here are the things that you need to consider when determining how much will your budget be. Sit down, have your data ready, and ask yourself the following questions:
Question #1: What is your goal?
What is your top priority for your website at the moment? Do you want to increase your sales? Is it your goal to increase your traffic to 10,000 visitors per month? Or do you want to rank higher on SERPs?
Knowing your priorities and goals allows you to determine your budget. For this question, make sure that you are honest. This will help you later on as you decide on hiring a professional specialist or if you want to do the work yourself.
Cost: Free
Question #2: Who will do the search engine optimization?
As mentioned earlier, Google optimization requires skill and experience. Depending on your project, you can try DIYing, or hiring a freelancer or an entire agency to help you.
·       Do-It-Yourself Optimization
Do you have a bit of experience with search engine optimization or are willing to learn about it? Although it is not the simplest thing to practice, this does not mean that it is impossible to do so. However, best prepare yourself for the results as success is not always guaranteed in this industry.
Cost: Free
·       Hiring a Freelancer
Hiring a freelance SEO specialist can do wonders for your website. Remember what we said earlier about knowing your current goals? Before finalizing your decision of hiring an expert, tell them exactly what you need. This allows you to find the pro that will be aligned with your vision which makes for a smoother process.
Cost: The budget you need to set aside for hiring a specialist depends on several factors such as their experience and specialty. Expect to pay around $20 to $200 per hour for their services.
·       Hiring an Agency
If you think that your website will require major hauling, hiring an agency is an option you should look into. When you have an agency help with your SEO needs, you will not just get help from an individual. Instead, you will work with an entire team that is usually experts in the various optimization processes.
Cost: The costs of hiring an agency depend on several factors such as their number, experience, and specialty. Expect to pay around $50 to $200 per hour for their services. Depending on your agreement, you can also pay them monthly or with a flat fee.
Question #3: What are the necessary tools for the project?
Optimizing an entire website does not just require manpower. Aside from the specialists, you will also have to make use of several technical tools that will be useful for your site. Of course, since not all sites require a handful of plugins, templates, and more, some will require the preparation of more dollars than the one with the simple interface.
Cost: Some of the most popular SEO tools such as Moz Pro, SEMrush, and Ahrefs offer subscriptions that are around $100 per month.
Question #4: What type of package do you want to get?
Freelancers and agencies offer different types of SEO packages for their clients. If you do not know where to look, UpWork is one of the platforms where you can find specialists that offer search engine optimization for every price point.
Here are some examples of the SEO packages professionals offer:
·       Basic SEO Package
Often the simplest and cheapest set that experts offer, a basic package will usually allow you to get started with increasing the ranking, the setup, and configuration of your website. This is perfect for sites and small businesses that are new and still starting out.
Cost: Usually around $500 to $3,000 per month.
·       Standard SEO Package
Best for established businesses that need more features, standard packages often include the basics such as keyword research, link building, and content editing.
Cost: Usually around $3,000 to $10,000 per month.
·       Mid-range SEO Package
If you want a seamless site that contains some bells and whistles for a wonderful and no-hassle experience for your visitors and customers, getting a mid-range package is enough for many website owners. It will include the option to have a higher number of optimized keywords, link building, code optimization, and more.
Cost: Usually around $3,000 to $15,000 per month.
·       High-end SEO Package
If you need a comprehensive list of competitor rankings along with the basics of link building, content creation, and more, take advantage of a High-end SEO package. Perfect for websites that generate a high volume of traffic, you can certainly have a better deal if you take advantage of skilled freelancers that know SEO like the back of their hands.
Cost: Usually around $15,000 to $30,000 per month.
·       Enterprise SEO Package
Finally, for the huge sites with hundreds of pages and content, you should invest in an Enterprise SEO package. Since the job requires a lot more manpower, most business owners suggest hiring agencies for a less stressful campaign.
Cost: Usually around $30,000 to millions per month.
Question #5: Do you need an SEO Audit?
For the people who are struggling with ranking, selling, or converting potential customers, SEO Audits may be necessary. These audits help determine the weak parts of your website that will need updating or changing for the better.
For example, a technical search engine optimization audit allows us to get in-depth about the various technical features in our website for a more seamless user process. Once the audit is successful, the experts will make sure to fix the errors or mistakes on your existing website.
Cost: There are many factors that will influence how much you have to pay for an SEO Audit. Usually, prices will start around $1,000 monthly.
Question #6: Do you need Keyword Research?
Although we mentioned keyword research earlier, we are still not able to explain what it is and why it is necessary. Generally, it is the process of knowing which words are useful and effective in your niche to make way for ranking your website. Since keywords evolve every now and then, you may discover that you are not ranking because you did not do enough research.
As an example, if you are talking about jewelry, using the related keywords such as earrings, bracelets, and rings can help our website rank higher or sell more products.
Cost: Usually around $200 to $500 per month.
Question #7: Who will do the content for your website?
You may have heard the saying, "Content is king." This also applies to search engine optimization. If you want good results, you need to make sure that your site's content is helpful to your readers and answers what they want to know.
Imagine this: You have been very successful in ranking your website second for the jewelry niche. However, when users visit your site, there is no valuable content they can use or read about necklaces, rings, bracelets – you get the point. What happens? Eventually, Google will notice that users are not staying on your page for too long, which makes it think that your content is not useful. Because of this, it will stop recommending your page on the frontline, which buries your site where it will not be found unless it gets updated with good content.
Cost: Usually around $500 to $1,500 per month.
Question #8: Do you have backlinks?
Although content is absolutely more important than links, it is not a secret how the latter plays an important role in the success of a website as well.
Generally, a backlink is a type of hyperlink you can see on certain sites that will lead you back into your own website. In a way, it serves as a way to credit your page when they are talking about you, your site, your product, or any other content one can see on your website.
Since backlinks are great for increasing your rank on SERPs, having a decent amount of them on your content influences your rank, traffic, and sales and also your credibility. Because of this, they are a very important part of SEO.
Cost: You do not have to pay for backlinks. However, if you really must do so, they usually cost around $100 to $600.
How much should you spend on SEO?
If you are asking us about the best amount you should spend for SEO, we will probably need to know more about your business - data, location, and other things that can help us arrive at a certain figure.
To be safe, the amount will usually be the money that you can afford to pay for marketing your company. As what we will always say, the SEO you should have is what you truly need. Hence, spending 1,000 dollars per month or 15,000 dollars monthly will ultimately lie on the SEO services you require.
Before spending loads of money, it might help to hire a professional that can help you analyze the SEO needs for your website. After all, you do not want to focus on keywords only to find out that you should have been improving your backlinks, wouldn't you?
Why you should stay away from "cheap" SEO
How cheap is "cheap?" According to many experts in the industry, if a freelancer offers to work on your website for $100 per month, chances are you will not get what you are expecting.
Sure, freelancers charge different rates. Since a number of freelancers live in various cities, minimum wage standards will, of course, differ. However, search engine optimization requires a lot of knowledge and time. Spending $100 to make your website more visible is a deal that is too good to be true.
Unfortunately, many companies get trapped by countless agencies that offer inexpensive SEO rates, which is exactly why we feel obligated to tell you to be careful in choosing a specialist.
Here are some of the warning signs you should definitely look out for when hiring an SEO specialist:
1.     They know how to manipulate Google ranking
Does the 'expert' you want to hire talk to you about how they know the tricks for manipulating page rankings? If it seems sketchy, stay away. Not only will you waste your money, but you will also risk banning your website.
2.     They charge low for their skillset
Are you planning to hire a freelancer that says they have the skillset of 6 different professionals? If they know SEO, write content, designs and develops a site, and have other skills that you need for your website, a professional should know their rates and be firm with how they charge.
3.     They try to talk to you about using Black Hat SEO
Does your freelancer swear about the effectiveness of using Black Hat SEO to rank your pages? If they do – trust your gut and run away. Unethical tactics are always a bad idea that can result in a penalized or banned website. You would not want to lose months and even years of hard work just for it to be all gone in a blink of an eye, wouldn't you?
Do you really need to pay for Search Engine Optimization?
A well-planned and well-thought-of Search Engine Optimization campaign can be exactly what a starting or thriving website needs. If you are asking whether it will be worth the investment in 2021, we can definitely say yes. However, you need to remember that SEO takes time and may take weeks and months to reap its rewards.
In a way, you can view SEO as a gamble. Sure, there are many things you can do for a more positive outcome, but success is not always 100% guaranteed. This is why you need to know and learn what works for your website, which does not happen overnight. Google can be very fickle – and if you base every market strategy on its current standards, you may find yourself in a wave of disappointment, especially if ranking is your goal.
If you need help with your website, having an expert who lives and breathes SEO can be the missing piece to your equation. Just make sure to set aside the budget you are prepared to invest. After all, the quote "you get what you pay for," also applies when it comes to search engine optimization.