SEO Services for painting Contractors
Painting companies are just like any other company out there, you need customers to sustain the business and grow.  Many painters are excellent at their craft, but lack the know-how to effectively market their business and acquire new clients.
As a business owner, I completely understand.  You have a skill that is highly in demand, and one that you're really good at, but don't you feel a knot in your stomach when you don't hear the phone ring for days at a time?  Where is your next client going to come from?  How can you predict cash flow and expenses?  How will you grow?
"Wouldn't you rather have a consistent means of prospecting that actually produces results?"
Are you relying on old, antiquated ways of marketing, like word of mouth, or flyers on the pin boards at the grocery store?  Your prospects may have searched for painting contractors that way in the 90's, but not any longer, so why are you "advertising" that way?
Why not market your business in places where you already know your potential customers are at?  When you give your business a chance to be seen, you're giving your business a chance to be hired.
Where is this place full of potential clients?
Well, they're all hanging out in the search engines like Google, Bing and Yahoo, and that's where you need to hang out too!  In fact, according to Fundera, 81% of shoppers research online before making a purchase.
So how can you make sure your business gets found online?  Through Search Engine Optimization, or SEO, you can make sure that your website is structured properly and optimized so that you're the #1 option when a potential customer searches for the keyword "residential painter near me", as an example.
Services we provide for painters
So, you're convinced that your painting business needs to be found online, but how do you go about doing it.  SEO for painters can be somewhat complex and understanding what to do can take some time, that's why we're here to help you.
Below is a comprehensive list of elements that each of our SEO campaigns has, but if you're looking for a-la-carte service, we can definitely accommodate that as well.
On-Page SEO for Painters:
As with anything that gets built upon, you want to make sure that the foundation is strong and structured properly.  In the SEO space, if your foundation is not structured properly, it doesn't matter how strategic or aggressive your SEO campaign is, it simply will not work and all of your efforts will be fruitless.
That's why every SEO campaign we take on, we make sure that the technical aspects of the site are spot on.  We use tools to make sure that every page of your site has the following set properly:
Site and page title tags

Header tags, including H1, H2, H3, and H4 tags

Correct meta descriptions

Meta robots and directives

XML sitemap

No duplicate content

Google Analytics integration

Google Search Console integration

Find broken links, errors, and redirects
Arguably the most important part of your painters SEO effort is finding the right keywords to target and rank in the search engines.  A solid keyword research effort will uncover keywords that get relatively high search volume and have little competition.  In other words, we'll find keywords that are easy to rank for.
Going into a campaign without having a strategy can cost you a lot of money, but even worse, it can cost you a lot of time.  Doing the necessary work upfront with your keywords means that you won't be going up against websites that are much stronger and more authoritative than yours.
This part is extremely important for new sites because if you're going after highly competitive keywords, you don't stand a chance at ranking well.
One of the biggest SEO mistakes that painting contractors make is that they create content around topics that they know are important, but don't have anyone searching for those topics.  Once we identify search strings that your potential customers are using, we will create a content planner that outlines exactly how you should structure any new content you add to your site.
Any new content that gets created needs to make sure that it thoroughly addresses the search query.  If you need to create images and graphics, we'll outline that.  If your content requires videos, we'll outline that as well.  We'll also outline subtopics to discuss.  If your content isn't created properly, you'll have an uphill battle in terms of ranking for the search term you're targeting.
Off-Page SEO for Painters:
Link building, in the online world, is nothing more than a vote of confidence from one site pointing to another site.  You've seen it thousands of times while surfing the web, but typically it's a string of text highlighted and underlined in blue that, when clicked on, will take you to another web page.

Lots of studies on backlinking have been performed (and analyzed) by major SEO companies and the conclusion is very clear.  Data shows that the more backlinks your website (and individual pages) has, the better it will rank in the search engines.
In fact, according to backlinko.com, they analyzed 11.8 million Google search results and found that there is a direct correlation between the number of backlinks you have and your search engine rankings.
Looking at the chart below, the average #1 result has an average of 3.8x more backlinks than those who rank #2-10.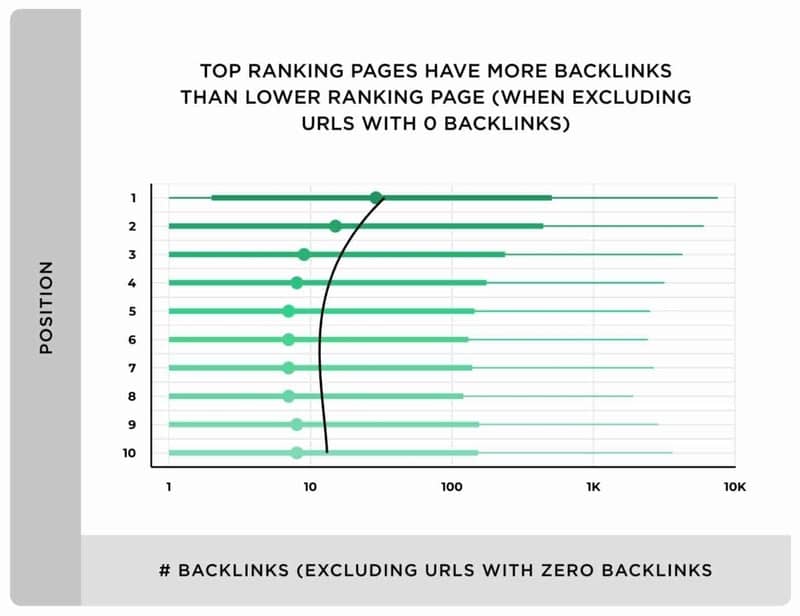 Furthermore, impactplus.com indicates that 91% of all pages never get any organic traffic from Google because they simply don't have any backlinks at all!
Certainly, many of these pages were published around topics that don't get any organic search, but buried in this statistic, there must be plenty of keywords that have a healthy search volume and don't have any backlinks.
In my point of view, this leaves a tremendous amount of opportunity!
With backlinks being such a major ranking factor, we'll help you identify backlinking opportunities from several sources ultimately getting your pages to rank better and increase your painting company's visibility for the services you provide.
Google My Business listing:
Pound for pound, this is one of the most valuable listings your painting company can have on the web.  Getting a Google My Business (GMB) listing looks something like this:
Having a GMB listing will get you on the maps, which looks something like this:
This listing is extremely valuable for several reasons:
More places for your brand/company to be displayed on the web

Allows potential customers to learn more about your services

You can post photos of your work so you can showcase them to potential customers

It's a source for you to get 5 star reviews

Many other reasons
Despite the reasons above, one of the main reasons you need a well optimized GMB listing is because if the searcher's query triggers a map listing, approximately 60-70% of the traffic will go to one of the businesses in the maps.
That's a lot of traffic and potential business!
What's even more staggering is that approximately 56% of all local retailers don't have a Google My Business listing.  This is a statistic posted by GeoMarketing.
This means opportunity!
Part of our SEO services for painters includes acquiring a GMB listing, if necessary, optimizing your listing, and getting it to rank and produce more calls!
That's what every painter needs – more calls.
What are citations?  This is something that people tend to over complicate, but it's not complicated at all.
A citation is simply a mention of your business on another website.  That's it.  It typically includes your business name, address, phone number, and website.
Think of your Yelp listing, which has that same information in it, among other things such as your hours of operation, services you provide, etc.  When you claimed your Yelp listing, you just created a citation source.
So why are citations even important?  In the SEO world, citations are not the end-all-be-all, but they are a significant ranking factor, especially for local painting companies.
In fact, in a 2018 study done by Moz, they found that citation signals were the 5th biggest factor to ranking your Google My Business listing and your website, accounting for 10.82% and 8.41% respectively.
With citations playing as big of a ranking factor as they do, every SEO campaign for painters should include citation sources.  They are relatively easy to obtain and if your competitors have a decent amount of citations, you'll need them to dominate your local market.
We can help obtain citations for you.  Our citations are all built manually (instead of using an automated bot) and are both industry relevant and geo relevant as well.  Allow us to do an analysis of how many citations your business has on the web, and compare that to your competitors.
Here's what that comparison looks like: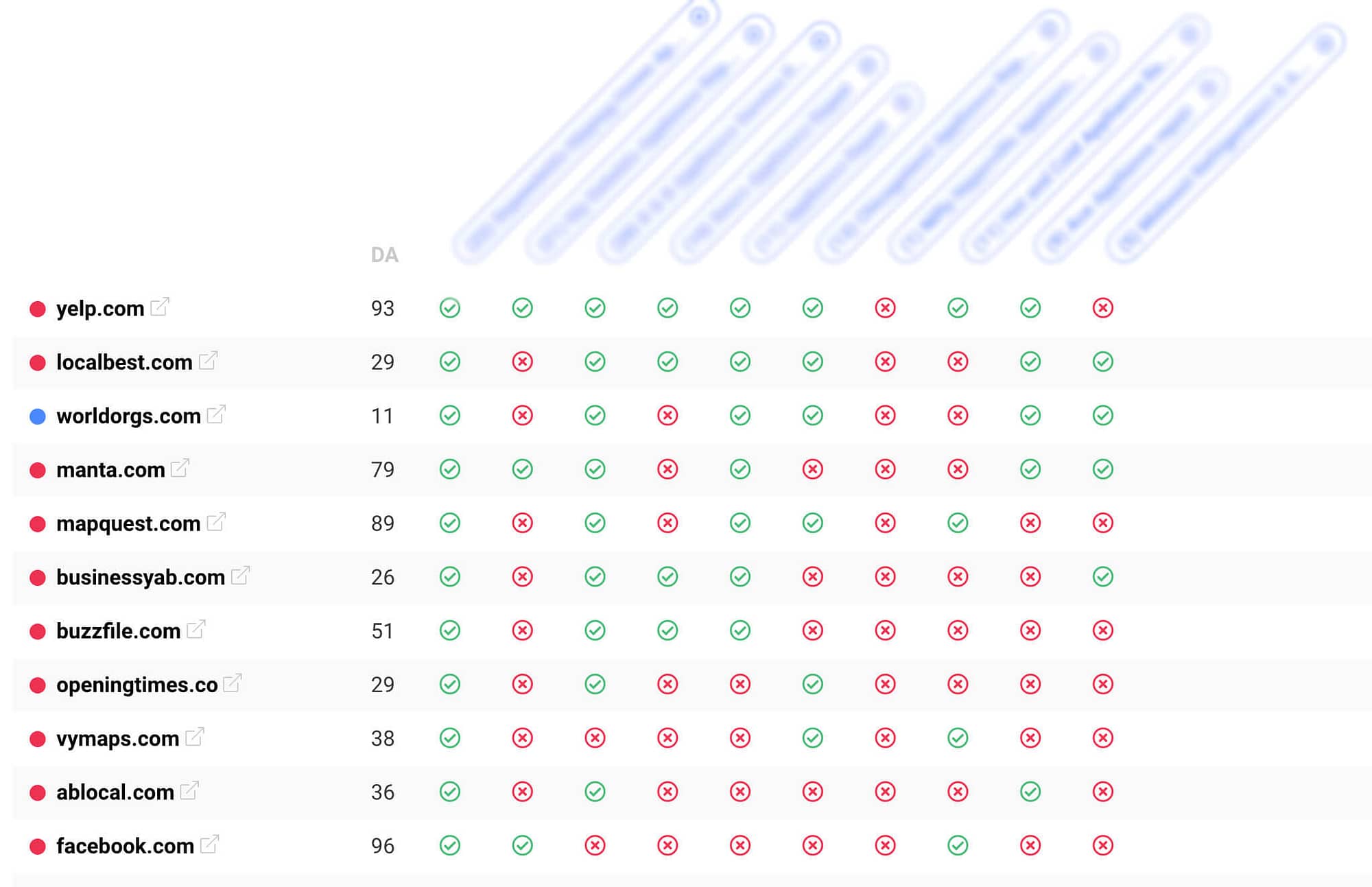 Best of all, this comparison allows us to see which citation sources your competitors have and which ones we can also go after!
Maintaining a solid image on the web is extremely important, especially for local businesses where 90% of buyers read online reviews to decide if they will be purchasing a product or service.
This can pose a challenge because, as every business owner knows, it's extremely tough to satisfy every single customer 100%.  Some customers demand the sun, moon, and stars, and if they don't receive it then they leave your company a bad review.
Statistics show that in 35% of the cases, 1 bad review can negatively affect a customer's decision to purchase your service.
So how can you overcome this?
We offer a reputation management service where we encourage more of your customers to leave honest feedback of their experience with your service.
This unique review link will take them to a landing page where they can rate your service ranging from 1-star (very poor experience) to 5-star (exceptional experience).
If they leave a 5-star review, it will take them directly to your GMB listing and have them place the review there.
If they leave a 4-star review or lower, it redirects them to a feedback page where they can explain why they feel they didn't get exceptional service from your company.
This funnel is amazing for painting contractors because it encourages a higher percentage of 5-star reviews be left on your GMB listing, but it also allows you to listing to what your customers have to say about your business, and it allows you to make it right between you and your customers.
This is a great way to get a second opportunity with your customers and show them that you do care about providing 5-star service to every client you interact with.
Why invest in an SEO campaign for painting contractors?
At the time of this writing, Google's search market share in the U.S. accounts for 86% of all search traffic, leaving the bread crumbs for Bing, Yahoo, and other search engines.
There are 1.7 million monthly searches that take place for contractors.  97% of those people go online to look for a contractor.  Of that percentage, 55% of them run an online search before even scheduling an appointment.  What's more staggering is that 40% of those people only look at one contractor before they make their final decision.
That one contractor/painter could be you!
But first, you must allow yourself to be found on the web.  The only way to do that is by investing in a solid and reputable SEO campaign for painters.
In a recent study done by FirstPageSage, they used 12 years of data to conclude that a business in the construction niche (fairly broad industry, I'm aware) was able to achieve a 3-year average ROI of 681% and was able to break even on their investment in just 5 short months.
Why do I bring this up?  Because investing in an SEO campaign has an extremely high ROI, more so than any Google PPC or Facebook marketing campaign.
Once your main keywords are ranking, there is very little maintenance that has to be done, and next to no additional investment required on your end.  At that point, you'll just want to invest in keywords in other areas of your geographical market to keep growing your business.
Compare that to constantly feeding your PPC campaign.  The costs are high, conversions can be frustrating to get them to where they need to be, and the moment you stop feeding the machine, you'll stop getting any flow of leads that were coming your way.
Investing in a solid SEO campaign for your painting company is the way to go!
Top organic SEO Keywords for painters
| | | |
| --- | --- | --- |
| painting company | 12,100 | Medium |
| painting contractors | 12,100 | Medium |
| house painters near me | 8,100 | High |
| painting companies near me | 8,100 | High |
| painting contractors near me | 5,400 | Medium |
| commercial painting contractors | 1,600 | Low |
| painting services near me | 1,600 | High |
| exterior house painters near me | 1,300 | High |
| interior house painters | 1,000 | Medium |
| local painting contractors | 1,000 | Low |
| commercial painters near me | 1,000 | Medium |
| home painters near me | 1,000 | Medium |
| quality painting | 1,000 | Medium |
| all pro painting | 880 | Low |
| the painting company | 720 | Medium |
| interior house painters near me | 720 | Medium |
| best painters near me | 480 | High |
| house painters in my area | 390 | High |
| commercial painting contractors near me | 390 | Medium |
| exterior painting contractor | 480 | Medium |
| professional exterior house painters near me | 320 | High |
| local painting companies | 390 | High |
| jb painting | 320 | Low |
| local painting contractors near me | 260 | High |
| local house painters | 320 | Medium |
| house painting contractors | 320 | Medium |

We help businesses in the home services niche improve their digital presence to get more leads for their business!
Look what we've done for other clients...