What is a digital marketing citation?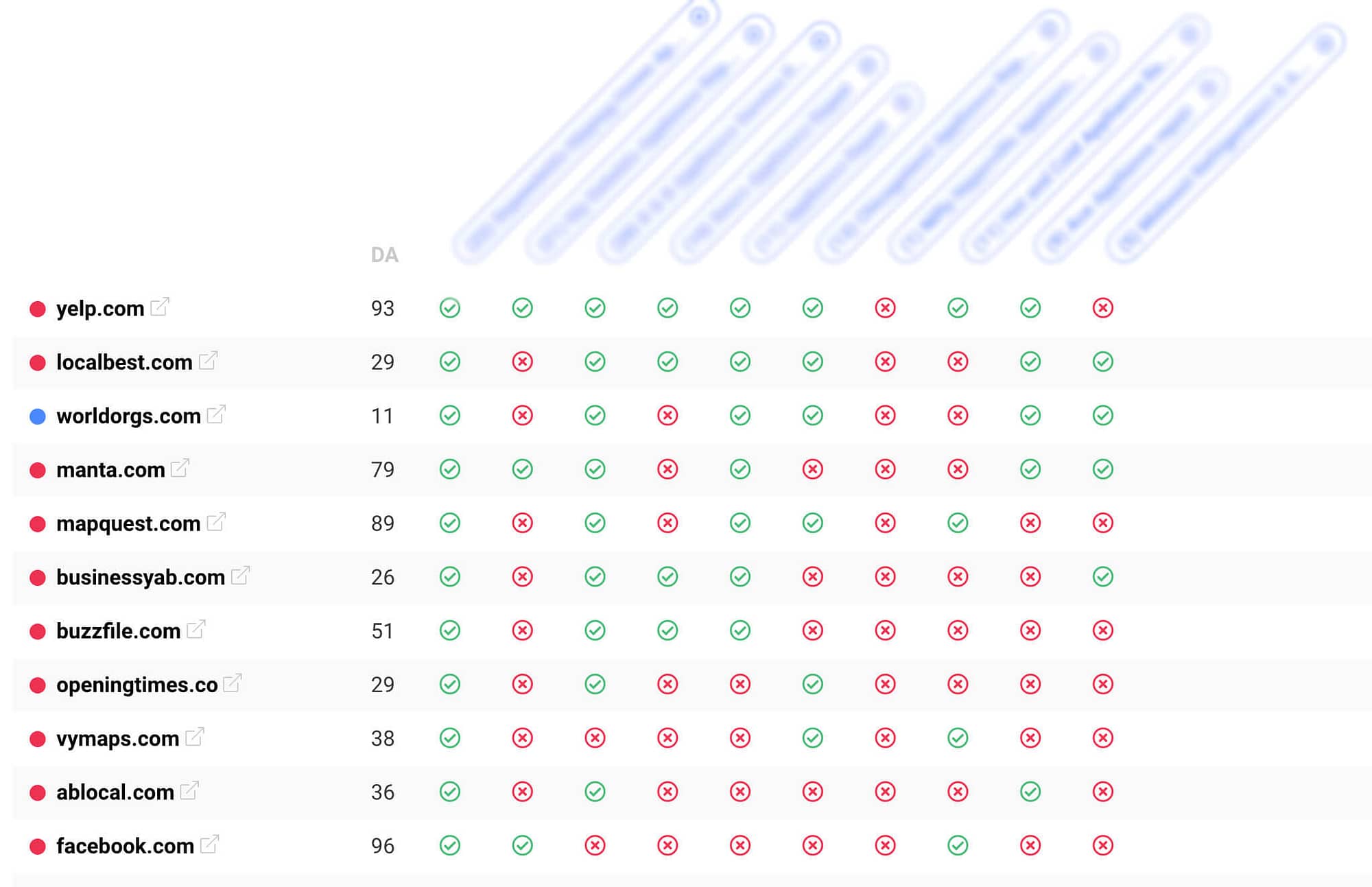 For businesses, having and maintaining a good online presence is essential for their company. It allows them to be visible to potential customers, increases sales, and even makes it possible to grow exponentially by having their products and pages shared on several social media accounts.
This is why local SEO is crucial for the success of many businesses. Since it does its work by promoting a business or service in a particular location, local SEO makes it possible for a company to be seen by showing internet users more suggestions based on their current location. One of the most important things that are a must for optimizing a site is using a digital marketing citation.
What does "citation" mean in digital marketing?
Also known as a local SEO citation, a digital marketing citation is essentially an online mention of the important details of a particular business or company. These details usually include the NAP which is the business' name, address, and phone number, although some elements can also be included to distinguish it from other companies that may share the same name.
The main reason why digital marketing makes use of citations is for the SERPs and customers. Since a citation makes it possible for the business to show in various search engine results pages, it can help increase traffic for your website and may eventually bring positive outcomes for the business itself.
Citations appear in many forms. Due to the reason that search engine optimization can be very challenging, especially locally, website owners should make use of different strategies to maximize their brand;'s online presence.
Depending on what you need, taking advantage of free local SEO may be enough for your business. Especially if you are just starting out, there are options for uploading a citation for your business without needing to pay a fee. Of course, if you want to target more customers or rank higher in SERPs, paid options are always a thing you can look into.
Structured vs Unstructured Citations
As mentioned earlier, citations can appear in many forms. In order for sites to fit them into their content, it is common to find a structured or unstructured citation in some of the websites you read every day.
1.    The standard type – Structured Citations
The most common way of seeing a citation is when they are in their structured form. They usually appear in a consistent format that lists their name, address, and phone number in a readable layout.
Local business directories often use structured citations as their chosen format. Hence, if you are looking into uploading your details in their listing, prepare your NAP.
An example of a structured citation:
The Ice Cream Place
123 Corner Street, Florida
(123) 456 7890
2.    The unusual type – Unstructured Citations
Aside from the usual format of name, address, and phone number, some listings make use of unstructured citations for their websites. Instead of using a consistent format for the business, they may include it in a piece of content while taking in flow and consistency.
For this style, the citation will appear less robotic and more personal. Unstructured citations can be seen when a business features in a blog or on an article for the local newspaper.
An example of an unstructured citation:
Are you in the mood to taste the best strawberry-flavored treats in town? Step foot in The Ice Cream Place and prepare yourself to be delighted with their delicious desserts. For birthdays or other party reservations, call their number at (123) 456 7890. This new shop is at 123 Corner Street, Florida.
Torn between using a structured or unstructured citation for your business? If you are given the freedom to choose, do not worry, as both of them are very effective for local SEO.
Sure, structured citations are easier to spot while the other can take more time to find, but each of them has its own value. To know which one works best, you need to factor in where it will be placed. For example, if you are placing your citation on a magazine, using a structured citation can be robotic and stiff. However, if you are making use of a general business directory, it would be best to follow their format.
What are the different types of citations?
When it comes to digital marketing, there are three types of local SEO citations that we use for enhancing the online presence of our business. They are known as the wider web, the major local business data platforms, and industry specific platforms.
It is a type of citation that where you can build citation links on your own or upload them in various blogs, applications, and news sites. Since the platform can be very broad, some people view this option to be less precise.
Major local business data platforms
It is a type of citation that makes use of data platforms for listing a business. Depending on the situation, you can and popular platforms for local businesses such as Google My Business.
Industry specific platforms
Also known as a Geography specific platform, this type of citation focuses on similar niche types and trade. For example, if your business is in the construction industry, try listing your site on a page that lives and breathes the construction niche.
The different elements of a citation
Aside from the most crucial element of a citation which is its NAP, there are many elements you can incorporate into your citation. Of course, the elements will be limited depending on where you plan to put up the details of your business.
Business category

Business description

Driving directions

Operating hours

Images and videos

Links to social media

Links to features from a local article or site

Reviews from past customers

Accepted payment forms
If you are uploading this information on your own website, you should always make your business page cohesive and complete will all necessary data. However, if you are using another platform, make sure to follow their guidelines and formats. In some cases, you can always add more details to improve your citation.
Why is a citation necessary for your business?
Local citations are essential for the success of many businesses. But why is this the case?
A digital marketing citation can help you:
Build the credibility of your business
Whether we like it or not, a citation can help with making your business more legitimate and trustworthy.
Just think of it this way: when a friend invites you to a restaurant that you have never heard of before, having an option to look into the details of the place to Google lets your experience be more convenient. Knowing exactly where it is located, the food they serve, and customer reviews makes the catching up a more pleasant experience.
Increase the ranking of your website
Citations are a must for local SEO for a good reason. Since Google sees businesses with accurate citations as more legitimate than others who don't, they will recommend your page more. As a result, it will be possible for your business to have a higher ranking in several SERPs compared to its spot a year ago.
Increase the traffic of your website
Remember what we said about Google ranking your page more due to good citation? Once your website is visible on the first few pages of SERPs, you will even get more traffic for your site as long as your content is relevant and informative. Of course, for businesses with physical stores, improving foot traffic will also be possible.
Improves your sales or conversion
Finally, another important reason why local citations are necessary is that they can help with your sales. For a website with sufficient traffic and visible citations, it is possible to see an increase in your product sales compared to your metrics before putting up quality citations.
How can you build a citation?
You can get a citation for your business by using three approaches:
a)    Submitting a local citation manually
b)    Submitting a local citation using automation
c)    Submitting a local citation using data aggregators
Depending on your niche and the type of citation you need, using one or a combination of the approaches above is what makes it possible for your business to improve its digital presence.
Let us go into more detail of each of the approaches
The first approach: Manual citation submissions
Known as the standard method of building a citation, manual submissions make use of online directories to establish the NAP of your business. In some instances, it is possible that your business may already have a listing that is just waiting to be claimed by its owner. To claim your listing, you will need to verify some information and update the site for it to be consistent.
This approach is very effective, however, a downside is that it can take a long time to do.
The second approach: Automated citation submissions
This approach makes use of a system that allows you to build citations using an automated submission form. Compared to manual submissions, this method cuts the time you need to work with the campaign in half. However, it is important to know that it can make you prone to make mistakes.
The third approach: Data Aggregator submissions
Known as a more accurate approach to building a citation, making use of a data aggregator is efficient for many business owners who need to improve their ranking and credibility.
Data aggregators are organizations that gather information about businesses and use the data for updating numerous sources. Hence, if you want a quick way to build citations for your page, top data aggregators such as Foursquare and Data Axle will be the tools that can help you.
Depending on the tool you choose to use, it is usually easy to sign up for a data aggregator. All you need to do is create an account, place valuable information about your business, wait for the verification process, and voila, you will be added to their database.
Why a good citation campaign matters
Are you planning to start a citation campaign yourself? Or do you want to look into hiring a professional to start a campaign for your business? No matter what option you choose, a good campaign is necessary to:
When you make use of online directories to advertise your business, one of the best results you can take advantage of from the get-go is having more leads. This is highly important and useful for sites that need to sell courses or actual products as a way to make money.
Increase organic engagement
For websites that prioritize ranking, a well-executed citation campaign can absolutely pave the way to a higher organic engagement.
The essential websites, software, and tools for building citations
Do not get us wrong - it is possible to build a digital marketing citation without making use of these types of tools. However, they exist for a reason and are even used by the most popular business pages in the world.
Here is a list of the tools that can definitely help with your SEO citation:
1.     Moz
What you should look out for
Digital marketing can be very challenging and confusing. For new business owners, it is easy to be overwhelmed by the things you need to do to improve your site's online presence. When citations are concerned, we will give you the thing you should avoid doing at all costs.
Avoid the worst mistake you can do for your business:
Make sure to avoid the worst mistake you can do in digital marketing – which is an inaccurate and misspelled citation.
Sure, having inaccurate citations is better than having nothing on the internet, right? Wrong.
If the citation for your business is inaccurate, it will just confuse two things: your potential customer and search engines. Confusing these two can be a nightmare if you want to increase your ranking and sales.
This brings us to the point: Your NAP should always be accurate. As said earlier, NAP stands for Name, Address, and Phone Number.
Since they are very important details that customers (and Google) should know, you should put in extra effort to make sure that they are accurate in every citation you have live on the internet.
For owners who have multiple businesses, this can be an overlooked aspect amidst the things they do for their company, especially SEO. As a simple tip: List all the important details of your business and save it on a word document. Review each data and save it in one cohesive file. If there is a need for you to give your details, all you need to do is access that file instead of typing each data manually, which makes you more likely to make mistakes and typos.
4 Simple techniques you can do to build citations
For the people with patience and perseverance, citation building is an option they can do by themselves. If you are looking into starting your own campaign, here are some techniques to help you in your project.
1.    Research about the current citations you have for your business
Before building new citations, you have to know that there are some instances where there are already existing citations for your business. For this part, you can find a tool that will help you track existing citations and see if they are accurate or not.
You can check your local citation in two ways: manually or by using an automated local listing checker. Whichever one you choose, it will always be a good idea to know what you are working with before starting a citation campaign.
2.    Overhaul existing citations first
Once your find the existing citations, you can choose to retain them or change them if they are inaccurate or displays missing information. Remember the file we created earlier? Make sure to use consistent data for your citations or you will have to do the same thing all over again.
3.    Prioritize making use of search engines
It is always a good idea to start building your citation in search engines such as Google and Bing. Not only are they platforms that are inexpensive to use, but they are the most popular ones that many people can conveniently access across many cities and countries in the world.
4.    Update your citations regularly
After your citation campaign is complete, you may be tempted to forget everything you did for your website. However, stay away from the temptation and believe us when we say that your citations should be updated regularly. For example, there may come a situation where you will need to change your contact number. Go into the file that contains a list of your citations and update them one by one, or you may risk losing customers just because they cannot keep in contact with you.