What is link building and why do we need to build links?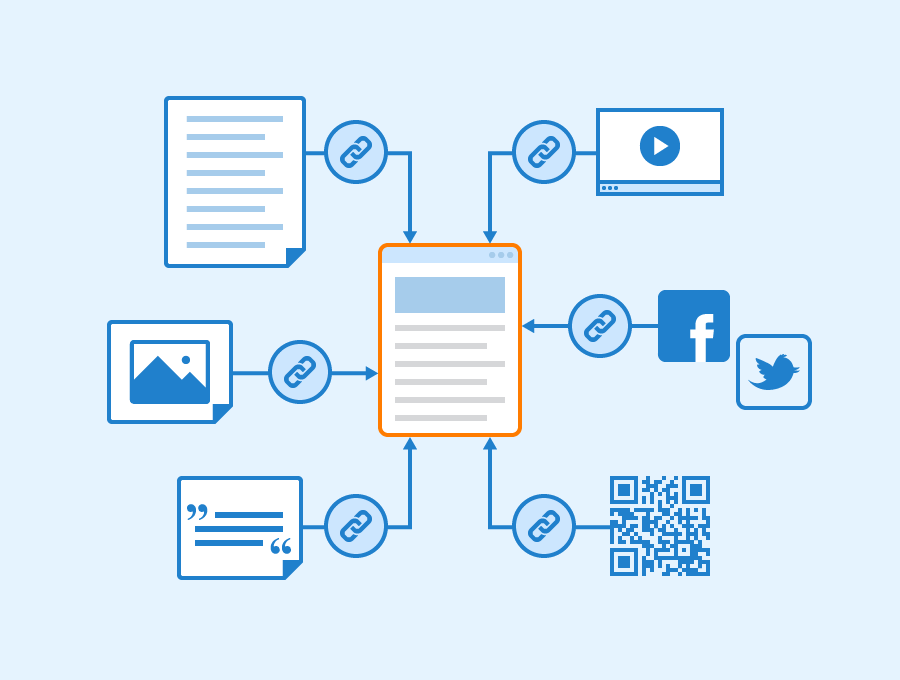 In this digital world, having a website that ranks number one on search pages can be very helpful for many businesses. This is why making use of different strategies to increase a page's ranking is an important element of SEO marketing.
Aside from having top-notch content and a reliable user interface, link building is a strategy that can be very effective for search engine optimization.
What does "link building" mean?
By definition, link building is the process of getting other websites under different domains to link to a page on your site. It is a strategy that is often used in SEO marketing as it allows a site to earn a higher spot on SERPs such as Google and Bing. SERPs stand for Search Engine Results Pages.
For many business owners, the first page of a SERP, particularly the number 1 rank, is the most coveted spot on the internet. Since many users usually click on the first sites they see when using the search tool of a SERP, SEO techniques are necessary to get a better chance of ranking for a particular keyword.
Unfortunately, link building is a very challenging aspect of search engine optimization. In order for sites to link to you, you need high-quality content and a high authority site. Since higher links may mean that your site is credible, Google will view your page as a content with higher authority if numerous sites link to your pages.
Factors that are important for SEO
Technical SEO
This factor includes anything that affects the performance of your website.
On Page SEO
This factor focuses on your site's content and media.
Off Page SEO
This factor includes the things that you cannot see on your website. Link building is one of the things that concerns off page search engine optimization.
External Links vs Backlinks
Link building includes the use of backlinks and external links. Although they are both beneficial for SEO marketing, they have their similarities and differences.
External links are the links that go from your website to an external URL. For example, your content is about "The best and cheapest keyboards in 2021" and you include a link to a different site that sells a keyboard, that hyperlink is considered an external link.
On the other hand, if a website is talking about "The best and cheapest keyboards in 2021" and links to your review of a Logitech keyboard, then that is called a backlink. Backlinks are the links that come from a website to your own domain.
Here are some of the reasons why link building is essential for SEO
It can lead to a higher ranking
Link building is a major factor that will influence how high (or low) Google and other SERPs rank your web pages. Let us view it this way: which one will you believe has higher credibility - a product with hundreds of good reviews or one that nobody has heard about? Of course, most of us will choose the product that many customers have tried and tested.
This is why SERPs rank pages with links higher as they view the site to be more useful, reliable, and credible. Since many sites use their content or media, this could mean that they know what they are talking about and should be the site that many users should read first.
It can help with promoting your brand
When users are able to see you from authoritative sites, it promotes your content, products, or brand and allows you to have more sales or prospective clients. How awesome is that? Since pages that have higher traffic lead to more and more audiences coming into your site, this is when your content will do its job of hooking more customers in.
Once Google sees that more people are visiting your site, not only will your metrics improve but as mentioned earlier, can increase your revenue.
It can help you build quality relationships
Link building includes pitching and communicating with other websites that are related to your niche. If you are able to build relationships with other people in the industry, the possibilities are endless. You can help each other have more sales and traffic by making use of collaborations.
Promoting your content and page to other people can be a hit or miss. Hence, you will definitely need to practice pitching to let other sites recognize the value of collaborating with you. Aside from linking, you can also volunteer to have guest posts to market your site. This way, you would not have to pay for links that can get you penalized.
There are several types of links you can build for your website. Some of them do not require you to reach out to other websites as they can link to you without any need for pitching. On the other hand, you will also need to pitch your content and brand to someone to receive quality links, especially if you have a new site.
For now, we will focus on the two types of editorial links: the freely given one and the one that needs outreaching to other similar websites.
1) Freely given editorial links
Known as the links that we did not ask for, these types of editorial links often happen to pages that consistently put out high-quality content. For example, if they did a thorough research of the percentage of Americans that use bidets, some sites will link their research to their page so that they would not have to do it on their own. Since the latter is given the credibility, they would not have to e-mail several sites to use their media and link to them.
Unfortunately, for new sites, this type of link building is only a dream for now. Most of these editorial links happen to bigger brands with high authority and ranking. However, do not be disheartened, we still have the other type of link that needs outreach.
2) Outreached editorial links
This type of editorial link is what we need to pitch for to get. This is exactly the reason why many people see link building as a very stressful and difficult process. To get these types of links, you need to put work into it. This means that you need to make use of every technique, pitching, and promotion to receive them.
Some sites may also reach out to you to encourage you to buy links from them. We advise you to stay away from these types of deals as much as possible. If you are caught paying for a link, get ready to be penalized. In some situations, you can even lose your site.
Ways to start building links for your website
Confused about how to start building links for your website? No worries, you are just one of the hundreds and even thousands of lost website owners who are having a difficult time with link building.
Allow yourself to start with small steps - there is a reason why many websites pass on the chance to use links for search engine optimization. By doing the process slowly while learning new techniques, you can be more effective with your campaign without being too overwhelmed by the technicalities.
Start building links by doing the following:
Converse in forums and introduce yourself and what you do
Make relevant comments on different blogs
Invite writers and bloggers to write a guest post
Ask bloggers to review your products
Engage with several social media posts
Include a link to your site when engaging online
Reach out to websites with similar niches
The number one thing that helps best with link building is engagement. Try doing some of the tips above, however, be sure to avoid appearing as spam. Only place your links whenever they are relevant to the posts. Be polite and follow community standards.
Another thing you can make use of is asking your close friends and family to share your content. Some may even know people who are also looking to build links on their site.
How link building affects Search Engine Optimization
Link building is a dynamic process that needs frequent research to be done properly. Fortunately, we can say that it will always be one of the things that influence SEO. For now, we are absolutely sure that building good links and executing them properly is crucial for the way Google ranks our web pages.
Before we go into details of the techniques of building links, we need to know more about Google Penguin. This update changed the way of link building and made sure that websites obtain their links in good taste. For example, low-quality links with low authority can be useless for your website. In fact, if your site is caught using spammy techniques, you can definitely be penalized. Because of this update, it has been significantly more difficult to obtain quality links that will improve SEO.
Can you create a link in your own domain?
Compared to external links or backlinks, an internal link is a hyperlink that focuses on linking pages under one domain.  Contrary to popular belief, interlinking is also an important process that website owners need to practice when it comes to link building.
In fact, like backlinks and external links, internal links are also useful when it comes to search engine optimization.
To make it clear: if you mention another site on your page which links to another page that is not under your domain, that is external linking. Internal linking is when you create a hyperlink on your home page that allows users to click it to go to another page under your domain, such as your about us page.
Internal linking is also an essential part of link building as it:
1.     Allows visitors to have a better user experience
One of the best advantages of internal linking is that they make your pages more user-friendly. For example, if you have a gardening page and they are reading your article about "How to improve your garden," it will be helpful if there is an interlink in there that will take them to a page about the "Best tools you can use for your gardening hobby" you wrote months ago.
Having a webpage that focuses on giving quality user experience (UX) also allows visitors to stay longer on your domain.
2.     Allows search engines to know more about your website
Did you know that there is a possibility that Google has already crawled a number of your pages when it follows the links posted on your page? This is what happens when you use interlinks properly. As a result, you can optimize your site better which also leads to more visitors.
When web crawlers go into your domain, interlinks allow Google, for example, to find if your pages have relevant content.
3.     Influences your website's ranking and distributes page authority
As long as the linking was done according to search engine standards, is possible to have a higher index as a result of good interlinking processes. Since it influences the pages' index, it can affect your site in a way that may increase its ranking.
This is why it is important to use interlinks the way search engines recommend, as it may also be the reason behind your low SERP (Search Engine Results Page) ranking. Also, linking to several pages also spreads link equity around your website. For example, if page A has good external links, interlinking to pages B and C will pass some of the authority to these pages.
The different types of interlinks
There are two types of internal links we see on websites: Navigation Interlinks and Contextual Interlinks.
Internal Links for Navigation
The first type of internal link we see on many websites is what we call Navigational Interlinks. They primarily serve as a function that allows users to go into the different pages in your site and are often placed on the sidebar or footer of a particular site so they are easily visible and accessible to many visitors.
Contextual Internal Links
The second type of internal link is what we call Contextual Interlinks. They are typically inserted into the main content of a particular page and are cleverly fitted into the copy by their relevance. They are often highlighted or are in a different font color compared to the rest of the content and are clickable. Once a visitor clicks the interlink, they will be taken to a different page where they will be able to read into the topic they chose to click.
Tips for internal linking
Internal links are useful for making your website more visible, reliable, and user-friendly. To improve your pages, here are some tips to assist you.
1. Aim to have loads of content on your website
When it comes to the process of interlinking, it will be impossible to do if your site does not have a high number of content. Since you are limited to linking pages that are only under your domain, you should have loads of copy on your site.
This is why many site owners make sure to have a wide number of content on their domain. Since it makes internal linking so much easier, investing in a team of writers will be good for SEO.
2. However, do not compromise quality over quantity
Internal linking is only possible if you have a number of pages under your domain, but do not just upload content without making sure that it is high in quality. Doing this brings you more harm than good. For example, if Google crawlers go into your site and find poor or irrelevant content, you will risk your current ranking and may even receive a penalty.
3. Make use of anchor texts
Anchor texts are the words you see on pages that have a clickable hyperlink. Most are color blue and are underlined, but their appearance will depend on your website settings.
One tip when it comes to making use of anchor texts is to place them strategically. Believe us, you would not want to randomly put one in every paragraph for the sake of having them, as they can be annoying to look at and may not do well for your optimization campaign.
4. Use a strategy
As we mentioned earlier, having a good strategy to use for internal link building is crucial to your project's success. For example, it would be better to link to other pages on your site instead of always interlinking to your homepage or about us page. Why not use pages that are relevant to what your current page is talking about?
5. Avoid linking just for the sake of it
How much is too much when it comes to internal linking? Although there is no specific number that tells us when to stop adding links, it would be best to practice restraint. As always, it would be a better practice to only interlink when the page is relevant and timely to your content.
Why more links do not necessarily result in a higher ranking
When it comes to link building, more links do not guarantee a higher ranking. Hence, if it is your priority to increase your spot, making use of other strategies such as better content will be better for your current goal.
The reason why excessive linking is not a good idea is that Google sees this as a spam technique. Stuffing your content with an abundance of links makes it weird for the visitors and decreases its readability. Unfortunately, as we mentioned earlier, SERPs do not have an exact number that lets us know if our links are too much or too few. Because of this, we should use our judgment and avoid using links in every sentence of our content.
Before focusing on link building, what should you do?
As what we have established by now, link building is very important for the success of your site. However, it is not the only thing that can make or break your SEO campaign.
Before you focus on building links for your website, you need to determine if you have a site that is worth linking to. Is your content reliable? Useful? Relevant? Is it credible? Will it be helpful and educational? It can be easy to forget, but as always, content is called the king for a reason.
Investing in quality external links, backlinks, and putting more effort into your internal linking is useful – do not get us wrong. However, prioritizing the matter of putting out high-quality content is better for a successful page. In fact, you may even notice some sites do not make that much effort with their link building, but they receive a high number of backlinks because their content is enough to establish their authority.
If link building is too complicated for you, focus first on your site's:
User experience
Site loading speed
And mobile friendliness